Hi Ladies: I have been so excited about this party. I feel like I have come such a long way, Baby! When I first heard about this party three years ago, I had my crafts in every nook and corner of my home. From closets, to under every bed available, wash room, bathroom, laundry room, you name it, my crafts were everywhere.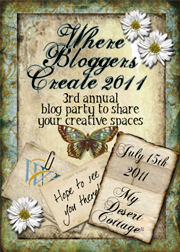 My Desert Cottage
The following year, a room became free! My son move into the rear house. Could the room really be mine? Would someone else claim it? Before anyone could say "craft room", I moved in. I didn't do a thing as far as the room color or anything else. The first thing on my mind was to put my things in the room. I tried to work when no one was looking (still afraid someone would "need it".) I lived and created happily in the room for a whole year before, I finally was sure, the room was not going to be used for something more important.
I even join the party last year, happy to claim that ugly, football, green room as mine. That party however, changed my life! I visited all those beautiful craft rooms and fell in love with them. So I made the executive descision, I was going to have not just a craft room, but something beautiful that was so organized I could happily open any drawer or cabinet and share all the goodies that had been hidden for years.
I started by painting the room the palest of pinks! (Any of you that have followed my blog know that I think Pink, needs it's own holiday!) Taking that awful football green off the walls and watching the pink go up, change everything. Now it was time to find beautiful jars to display laces, antique tins for buttons. A pretty garden fence to display my paper. I found glass cabinet knobs for the closets, shelves were created. A large antique table was placed in the room for me to work on. A dream had come true!
In this room I can fill it to the brim and no one calls me a "Hoarder". In this room ladies just say, "I wish I had a room like this." It is constantly evolving, as my knowledge of different crafts change. I am currently into making cards. The tags you see on the table are an invitations to my daughter's baby shower. I only have 40 more to go. I can't wait to see how this year's party will change my life. Enjoy your visit to my secret place of muse. A place where I can be as scattered and free as the art it's self!
I was going to show you in side the closets, but I don't want you to think I am a "Hoarder". I am just a "Serial Collector" on the EDGE!
Have a great time! Party on! Hugs, Martha